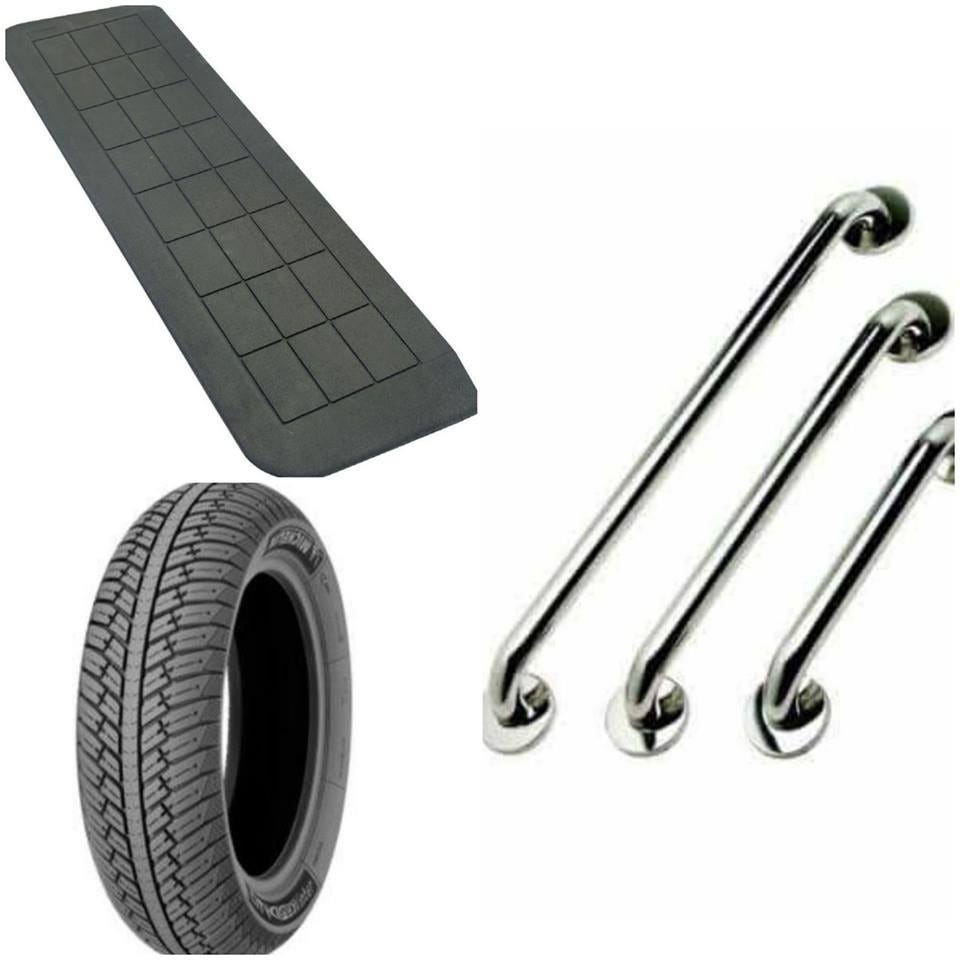 Ramps/Tyres/Rails
All prices are subject to change without notice
Available in 5 different rise heights to suit many indoor and outdoor.
The rubber wedge ramps are maintenance free, sun
tough and can be trimmed or grooved to suit the ideal location.
Starting price $
Access Ramp Fixed
The ramps are manufactured from high grade aluminium with a raised non slip contoured surface and have fixing points ready for use .
725mm Width
Available in Lenghts
600mm, 900mm, 1200mm,

Starting price $
Folding Ramps
The ramps are manufactured form high quality grade aluminium and feature a raised nonslip countour finish.The single hinge ramps folds down the centre and has a carry handle for portability
Width 725mm
LengthsAvailable 600mm,900mm,1200mm,
1500mm,1800mm,2100mm


Starting price $
Telescopic Ramp Pair
Aluminium Frame with a textured non slip grip surface.
270kg Distributed weight limit.
Min Length Max Length Width 1060mm 1800mm 190mm Weight 3.5kg each


Price $
Grab Rails
Grab Rails available many sizes
Concealed
Starting Price $
Rail Lengths
Uncut lengths of grab rails available
1&2 metre Lengths


Staring price $
Support Folding Rail
Attaches to a plate that is fixed to the wall. spring mechanism reduces effort required to lower and raise rail, and holds it securely out of the way when not need.
Starting price $
Custom Made Rails
Custom made orders available.
Quotes Available


Elbow End Concealed Flange Pair
Elbow End Concealed Flange Pair
90 degree
Stainless Steel


Starting price $
Scooter Tyres Solid/Foam
We have many sizes of mobility scooter solid tyres available.
Scooter Tyres Pneumatic
Mobility scooter pneumatic tyres available in many sizes.
Wheelchair Tyres
Wheelchair tyres in a variety of sizes , solid or pneumatic.
Caster Wheels
Caster wheels available for hoist, wheelchairs and walkers.
Tubes
Tube available for mobility scooters and chairs.