BEDS & MATTRESSES
All Prices are subject to change without notice
I-Care 333 Bed & Mattress

Mattress Surface Size: 2030 x 1070
Base Size: 2150 x 1120
200KG Safe working load on long single and king single,
300KG Safe working load on double and queen
Available in Long,King single,Double and Queen
Including mattress


Canpanion Beds & Mattress
Weight Rating – 100kg includes any model of Icare mattresses.
Fabric Hard wearing commercial grade fabric. Onyx & Stone
Mattress Surface – Timber slat system
Wheels – Furniture grade castor and glide
Base fixed height 35cm from floor to top of base.


Electric Bed RGBDK5
Mattress Surface 90 x 200cm
Overall Size 103 x 215cm
Max User Weight 140 kg
Net Weight Of Bed 80 kg
Safe Working Load 175 kg
Castor Wheel Size 100mm
Height Adjustment 40 x 80cm

Mattress sold separately


CS7 Electric Bed Invacare
The Invacare CS7 Bed is a truly versatile bed lowering to a height of 17cm's off the ground.
Length 214cm, width 90cm,
Adjustable height 17-76cm,
user weight 226kg,
Bed Only Mattress sold separately
Options
Standard bed ends available
Custom timber surrounds are also available.
Metal side rails
Self help pole Assist Bar, Pan deck is available.
Extension Range of mattresses available to suit individual care needs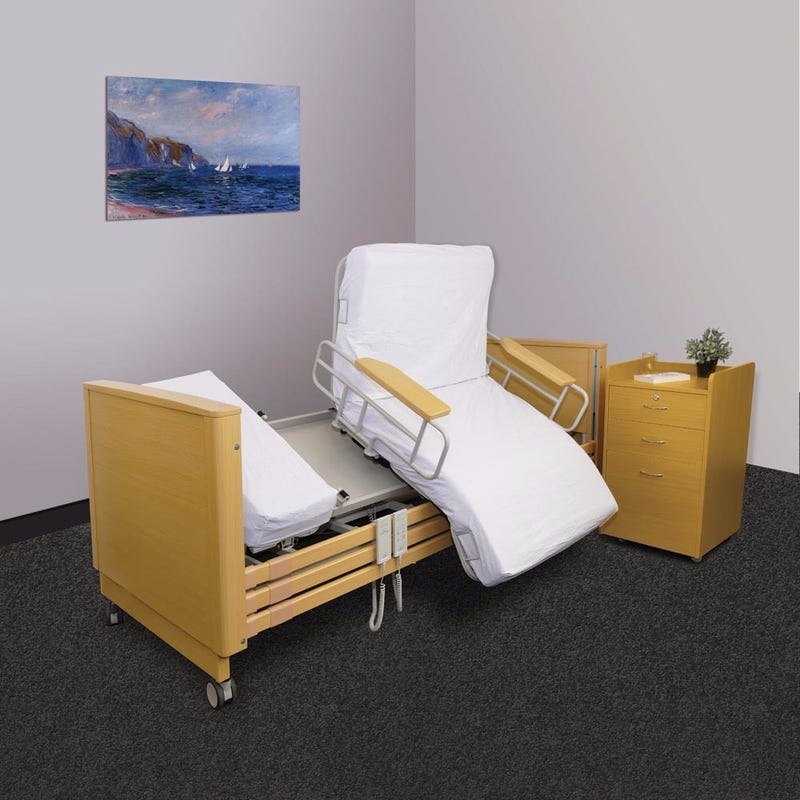 Avalon Rotating Bed
Allows user to get out of bed with minimal to no assistance
Dual function – fully functioning electrical bed that can also be used as a comfortable day chair
Overall Dimensions 2324 (L) x 1050 (W)
Height Range 500 to 900 mm , Working Load 220 kg. Custom two piece castellated foam mattress
Backrest Angle 0 to 70° Knee Break Angle 0 to 35° Trendelenburg Tilt 0 to 11° Anti-Trendelenburg Tilt 0 to 11° .


Softform Premier
High Risk. Equipped with a suite of features that ensures durability, sustained high degree of protection against tissue damage,waterflow scale 20,user weight 247.6kg,
Length 197cm,width 88cm,depth 14,2cm,